Breath, energy and resonance are at the heart of my work, where
the « body of breath » and the « body of text » echo one another.
Body and therapy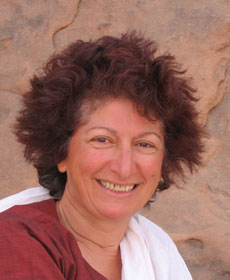 Rivka Crémisi
Passionate for as long as she can remember about rhythm, voice and resonance, Rivka's journey has taken her, through the years, to African and Afro-Brazilian dance, yoga, harmonic singing and to walking the deserts of the world...
In parallel, she has explored a range of therapies: rebirthing, primal therapy, holotropic breathwork, postural integration (PI) and various forms of massage.
Chinese energy arts and meditation
In 1986, Rivka discovers Chinese energy arts, which are a revelation to her and instigative of a turning point in her life.
Firstly she practices Tai Ji Quan with Yves Blanc, for three years. In 1989 she meets Master Kar Fung Wu, with whom she still trains to this day, in Chinese energy practices and the spirit of Buddhist and Daoist traditions.
These activities are Qi Gong, Tai Ji Quan, Bagua Zhang, Chan (Zen) meditation and the chanting of mantras.
The teachings of Kar Fung Wu are linked to three lineages:
Master Ben Huan, (1907-2012), from the Guangxiao Temple, Canton.
Hui Neng, (638-713), 6th patriarch of Chinese Chan Buddhism.
Lao Zi, (Lao Tseu), 5th century B.C.
Rivka begins to learn Chinese and the structure of ideograms. Her quest leads her to take part in Buddhist retreats with his holiness the Dalai Lama, with Chepa Dorje Rinpoche and Sogyal Rinpoche.
Hebrew and its symbolic meaning
From 1987 onwards, Rivka studies modern Hebrew at INALCO (French National Institute of Oriental Languages & Civilisations) and then biblical Hebrew at the Edmond FLEG centre, in Paris, France. This approach opens the door to what will become the other key axis in her life - the study of the Torah, the Talmud and Kabbalah.
She is taught by Gilles Bernheim, Chief Rabbi of France and Rabbis Philippe Haddad and Marc-Alain Ouaknin. She is also drawn towards the kabbalists Charles Mopsik and Georges Lahy.
Her study is also centred on the writings of the great kabbalists of the past such as Abraham Abulafia, Rabbi Nachman of Breslov, Baal Shem Tov, Isaac Luria and Haïm Vital. Her energy practice opens up a symbolic understanding of Hebrew letters and writings.
Her research is at the heart of the text, of breath, energy and symbols.
Teaching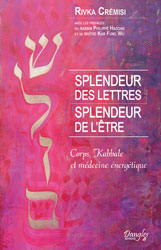 Splendeur des lettres,
splendeur de l'être
Rivka Crémisi has taught Qi Gong of Inner Verticality (Wu Ji Zhan Zhuang Qi Gong) and Tai Ji Quan (Wu style) in France and in Switzerland since 1993. From 1997 onwards, she teaches the symbolic meaning of Hebrew letters, the Kabbalah, in France and in Switzerland.
Her very personal journey enables her to build bridges between the body, energy and the letter. Her knowledge of Chinese energy arts guides her commentary and interpretation, giving rise to a uniquely creative style. Rivka has her roots in the oral tradition, and her teaching style is to convey the vibrant word, from heart-to-heart.
Breath, energy and resonance are at the heart of her work where the « body of breath » and the « body of text » echo one another.
Author of the book: « Splendeur des lettres, splendeur de l'être », Dangles edition.
Qualifications
Degree in socio-cultural studies, University of Vincennes.
Qualified psycho-corporal therapist, Diploma in Postural Integration (Neo-Reichian).
State Diploma (B.E.E.S.), French Ministry of Youth & Sport.
Member of the French Wushu Federation (Chinese Energy and Martial Arts).
Diplomas in well-being massage and in Reiki (1st and 2nd degrees).