« The practice of Tseruf Meditation can be compared to music »

Abraham Aboulafia
Tseruf and the kabbalists
Sephirot Circle
by Rivka Crémisi
All kabbalists have used techniques for the combination, chanting and meditation of letters as a means to access the infinite.
These methods allow the kabbalist to understand and to apprehend the mechanisms of what is cosmic and divine.
The essence of the universe is situated in spaces, between letters. The profound silence of the universe resides in this emptiness.
Hebrew meditation, known as Tseruf, צרוף, was widely developed by a major 13th century, Spanish kabbalist, Abraham Abulafia, at a time when medieval judaism was going through an intensely mystical phase. He founded his experience entirely on vibration.
The word « tseruf », means joining, connection, combination, purification. Its root word is «tsaraph» which also gives the words «gold smith, to smelt, to purify by fire» and, with the permutation of letters, «little bird».
Through the combination of letters, the kabbalist is like a goldsmith who melts the knots of the heart and soul. Tseruf frees up a path to the source. And so «our little bird» can fly, free of the cage.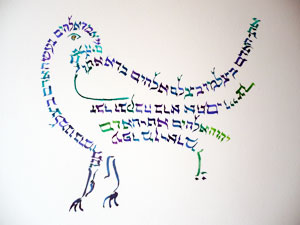 Calligraphy
by Rivka Crémisi
The practice of Tseruf
The practice of Tseruf is founded on the chanting of a word's letters and of their combinations, accompanied by head movements. The rotation and chanting of letters opens areas of the subconscious that favour enlightenment of the thirty-two paths to Wisdom. The different sounds mix together and the mystery of these combinations are an enchantment to the heart and the ear.
Its purpose...
Through this work into sound and vibration, Tseruf helps us to penetrate a world beyond our human limitations, a space where language has no place. This practice is a fundamental means to enlightenment. It opens up a communications' channel between our soul and the entire universe.
These practices are not an end in themselves but a way to the source of all things.